Mama's Condolence Register
Please sign virtual condolence register at this link

OR

Residence at Bashorun Express Olorunsogo Estate. Ibadan, Nigeria. Take a cab at Iwo Road going to Ojo. Stop 200km at NNPC gas station. Opposite is a small red iron gate which leads to the road infront of the house. The house is the second on the right. Or check the pictoral direction at this link.

Information and Plea

Please if you have any testimony of what God has done in your life as a result of Mama's ministration, ministry or personal touch, write it and send it to us at the email address profogunranti@yahoo.com .All will be published please.
Pastor (Dr) N.E. Udofia
Mama dada farewell. We shall meet on the resurrection day.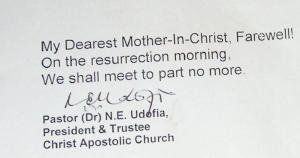 Pastor & Mrs AriJesudade
A mother in Israel
Adeoti Olarenwaju
Mamma, you are indeed a Mother-in-Israel, of inestimable value, we drank from the fountain of life God of Bethel dug through you. ADIEU
A.C. Adegbaiye
Congratulations Mummy for a good fight and a war won. God will help me and my family to win the battle of life for an inheritance in the Kingdom of our God where JESUS will be our Lord and Pastor.
M.O. Adegbaiye
My radiant and beautiful auntie. You are married to Jesus since I knew you. Thank God for Jesus who has come to take you home at the right time.
Pastor Hezekiah Olujobi
A tireless giver who never tired in giving. Lover of ministries of God and servant of God who never tire in witnessing about God. She treasured her testimony of conversion and untired in repeating the story What you showed into my life shall remain in delible in my memory. My encourager, my mentor in the most. Whenever she blessed me with money people frowned, yet she keep sowing, sowing till death. It pains me that I never had the opportunity to pay back. Good night.
Revd Ademolarin A Afolayan
We give glory to God for Mama Abadina. Fondest love and sweet memories of Mama who influences my spiritual life so greatly.
Revd Prof Adejumoke Afolayan
We thank God for a life spent and spent for the Great Rewarder of those who trusted Him. It is a glorious exit and we encouraged you have seen Him face to face. Halleluyah
Morenike Singerr
I love you Grandma Thanks for everything. Your life's been one big Halleluyah! Praise God.
Adeogun Olubode Timothy
Special thanks to God for the life of my mother Prophetess Oluranti. Goodnight Mama.
A.M.A. Imevbore and Mrs M.E. Imevbore
We give thanks to God for a gift in Mama to this generation. She died very well.
L/Evangelist Akinmade
Mama A dupe lowo Olorun fun Igbe aye rere ti E gbe karn wa nibripe E fi ara aye, okan yin ji fun wa lati mu wa mo Jesu. Olorun si lo yin lati gba idile wa la Mama Joanah Omolola Aya Oluranti Odi gba o.
Mrs Dolly Olabiran
We love you Mama but God loves more than we do. Rest in perfect peace mama. We miss you. Good bye
Mrs Akinmade Mayowa
Good mother you rest in perfect peace. Good night
Mrs Ayodele Carew
Mama dada, O da ro o.
Mrs J.A. Adebayo (neigbour).
Mama Adiu. Sunre o. God Almighty will uphold your children. It will be well with all of them in Jesus name.
Prof Akin Akinsoyinu
Adieu one mama in a million
Pastor Bode Ojo
Mama you were wonderful and since you had encounter with Jesus Christ you never forsook Him and your Lord did not forsake you. That same Lord will never forsake your children too. Bye till we meet at the feet of Christ.
Pastor Bunmi Oshun
This is a glorious home call. Mama Oluranti, popularly known as Mama or Prophetess Ogunranti touched my life in no small way and I became a spiritual being. My brothers and sister, our wives and children and grandchildren are equally Mama's children. The same love was extended to our parents. Rest in the Lord sweet mother. It will be well with all your children biological and spiritual. Great and glorious shall be the day when we gather in heaven where we shall remain with Christ forever.
Mrs Nike Popoola Mustapha
Mama mi owon julo esilo lehin mi, mo gba bi Oluwatife fun yin. Eyiti o mu inu mi dun ni wipe titi ti iku fi de kiki suru ati ipamora naa ni e nwa niwaju Olorun yin, gbogbo awon ono ati omo omo fi ope fun Olorun pe igbehin yin dun titi de odo Olorun yin. Mama awon omo, Oloore asoore lai wo ehin, asoore lai wo ti elegan asore lai wo ti ota tabi aleni enia. iya alayo pupo ninu Oluwa, mama efi opolopo adura laisinmi tun opolope ile se, abiyamo laiye ati ni biti ea bayi . We will miss you, mama sunre o.
Mrs Asejeje and Mrs Adegbite
She was a mother indeed. May her gentle soul rest in peace. No 59 Olorunsogo Layout Yanbule Area Oladeji Junior House.
Mrs Adewole
Mama was a wonderful woman. She was a mother to everybody
Pastor Taiwo Adewole
My own mama- real mama- one in a trillion. I know you have gone to rest at the bossom of your God and my God, your Father and my Father when we served and enjoyed together for many years at Oke Bethel to the glory of God. Good night wonderful mama!!
Mrs Florence Fasoro
Mama is a good mother to me. Mama. Rest in peace.
Mrs T.O. Bademosi
My mentor, mother friend and confidant. Your life was a source of great inspiration to me. Your total yeildedness and commitment to the service of God is highly commendable. A gem of inestimable value. We shall miss your love kindness counsel, wisdom and generosity. May the good Lord uphold the family and your ministry in faith until eternity. We shall miss you dearly ma. But a great reunion is for sure. May you rest in perfect peace. Thank you ma. Adieu!
Elder J.O. Akin
Mama we thank God for your life. Goodnight mama. Sweet mother.
Abayomi Shoyele
Mama, Adieu, Rest in peace.
Elder J.O. Oladeji
Mama, Thank God for your spiritual life. May God grant you eternal life, Bye.
Okoro Jolomi
JUST A PITY I COULDNT MEET YOU MUM, But our conversation on the phone reveals that you are a wonderful person. Rest in the Lord Mama.
C.K. Adamolekum (Mrs)
You are a sweet mother. You were a role model to all the members of my family. I will always remember you for your love, kindness help and moral support. May your soul rest in perfect peace. Adieu mama.
Dr & Mrs A.O. Afolayan, Dada Estate, Osogbo, Osun State
Our dear Beloved mother. We thank God Almighty for the wonderful glorious life you lived in the service of God and humanity. Rest on until the Resurrection morning when we shall meet to part no more.
Hon Justice S.L. Popoola Kadara Villa Bashorun Estate Ibadan
Our Generous mother-in-Christ, at the Lord's own good time, you left us. But we can not complain because it was he who gave , Who had you back. May your noble heart rest in perfect peace. Amen.
Mrs Ogunbademiyi
Mama rere to toju mo enikeji ju ti ara re lo, mama to nife mama to fi gbogbo ojo aye re sin Olorun, ma fi ona igbala han awon to ti sina lati yi pada ki ale nigbala ka si beru Olorun.
Mama alanu. Ko so wo ti mama kole fi sanu fun omonikeji. Mama mangbawe ki omo nikeji le jeun. Orun rere re o mama. Oti sise orun rere. Igbalayin daju mama. Odabo mama suure. Magbe laya Olugbala ti di ojo ajinde.
Deaconess G.O. Ogunranti
Mama rere, sun un re. Ao ni gbagbe yin laelae. Goodnight mama. Sleep well until that beautiful morning. Adieu.
J.O. Jegede. Olorunsogo Layout Yanbule
May the Almighty God grant her eternal rest Amen.
Ayotola and Kehinde AREMU
We thank God for a fulfilled life and service in God's vineyard.
Julianah Asekome Agbowo Ibadan
Mama, you took me to Christ which is the ultimate. May your gentle soul rest in perfect peace.
J Adamolekun Orogoun Ibadan
Mama I miss you but God needs you more. We shall meet at the dawn of the Lord, Amen.
Olutoyin Adepate
Our good mother, rest in the bossom of the Lord. You deserve your rest. You have earned you crown with many diadems
Tope Akindele
The last of the titans. How we thank God for the impact your collective live on us all. May you rest in peace.
Sinmi Afolayan
Grandma, through your example I've learn how to love God above all, to put Him through it all. As a result of your example you've affected my mother and in turn me, for that I thank you. I can almost imagine you sitting in God's lap playing with His beard just like you told me you wanted to do.
Toyin Akindele
Mama, We thank God for life in Christ you lived. May the love of God you showed continue to flow.
Bayo Akinbo
Mama, what can we say when God says you should come home? Sun re o.
Feyi Adepate
Mama, Thank God for your life. God has been faithful. We bless his name. Rest in his bossom.
Samuel Okonkwo
Goodnight Mama, we shall see another time.
Pastor (Dr) Deaconess Abayomi
Promoted to Glory. Praise the Lord
Elder Peter Ukpe
Adieu Mama. Rest in the bosom of our Lord Jesus Christ, Amen until we meet to part no more.
Elder Peter Ukpe
Adiu Mama. Rest in the bosom of our Lord Jesus Christ, Amen until we meet to part no more.
Mrs Bola Adeniyi
Apehinda Mama, ki o dara fun gbogbo awa omo tara ati omo temi, ki a mase kuro ninu Jesu, ki a pade. Mama wa ni Ojo Ajinde. O digba o, Mama.
Mrs V Saliu
A dupe wipe Mama wa lo, Oluwa feran Mama ju gbogbo wa lo, ki Oluwa fe mama wa si afefe rere. Ki eyin Mama dara fun awon omo won ati awa ijo Olorun.
Mrs R.O. Fashola
Thank God for a well spent life. We commit you (mama) to eternal glory. Rest in the bosom of God.
Mrs Aderinboye
Mrs Joy Ubani
Mrs Victoria Kazim
Mrs Edogbo
Ki Olorun te mama si afefe rere, ati awa at awon omo. May her soul rest in perfect in peace.
Mrs Comfort Adebusoye
Eyon mama a adara, ki Olorun wa pelu
Mrs Komolafe
Mama mi dada, sunre o.
Elder G Afolabi
Momo dada sure o. Mo mo ise rere yin yio matoyin lehin. Sunre momo
Elder James Isibu
Mama. You lived a life of honour, a successful Christian life and you touch this life of mine spiritually. Sleep well in the Lord.
Grace M Jaffo
Mama rere, mama onise rere ninu Jesus Krist Oluwa wa, adupe lowo Olorun oju rere ati anu re ninu aiye yin fun mi lopolopo igba ati ojo gbogbo ti e fi ngbo ti awa omo yin nunu Oluwa, Ema sun laiya Olugbala titi a o fi pade lese Jesu ti aki yio ku mo (Amin)
Mrs D.O. Akinwele
Mama ki Olorun tie yin si afefe rere. Ari ise rere yin ninu aye wa sugbon Jesus fe o ju wa lo. Sun re.
Funminiyi Komolafe
Mama, I cant give enough comments about you, because I know how I'm feeling while writing these words. You are just special. You took very good care of me like your child you lead me to Christ you showed me every quality of a good mother. I love you mama, may your gentle soul rest in the bosom of the Lord. Adieu.
Mrs Wale Ekundaye
We love you mother, but God loves you more than we do. Rest in perfect. Peace mama. We miss you. Good bye.
Also sign the virtual condolence register at this link.