Mama's Planted churches
Please send us pictures of your churches to place on this website
Ibadan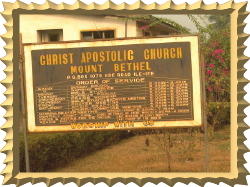 Ife: Branches
Pastor (Dr) J.B. Arubayi (Ede Road Assembly)
Pastor (Prof) O.A. Adegbulugbe (Resident Pastor, Adesanmi Assembly)
Pastor (Prof) I.O. Obisesan (Resident Pastor, Temidire Assembly)
Pastor (Engr.) B. OlaOluwa (Resident Pastor, Parakin Assembly)
Pastor (Dr) I.O. Abayomi (Resident Pastor, Ife City Assembly)
UK
Residence is at Bashorun Express Olorunsogo Estate. Ibadan, Nigeria. Take a cab at Iwo Road going to Ojo. Stop 200km at NNPC gas station. Opposite is a small red iron gate which leads to the road infront of the house. The house is the second on the right. Or check the pictoral direction at this link.
Information and Plea
Please if you have any testimony of what God has done in your life as a result of Mama's ministration, ministry or personal touch, write it and send it to us at the email adress profogunranti@yahoo.com .All will be published please.
Also sign the virtual condolence register at this link.