Chapter 8
JOANAH'S LETTERS
<![if !vml]>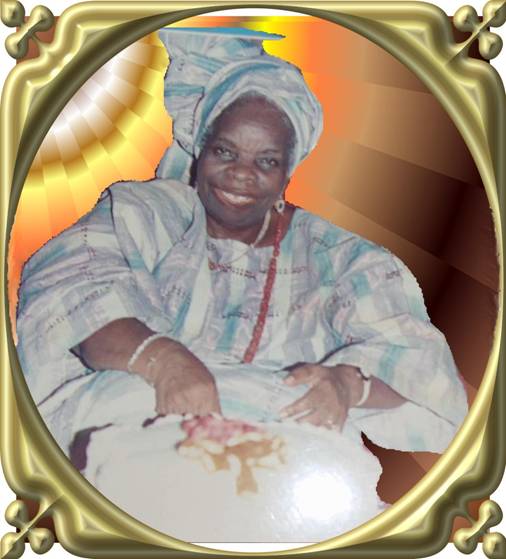 <![endif]>
| | | | |
| --- | --- | --- | --- |
| S/no | Letter | Date | Page |
| 1 | Letter to anonymous Pastor | 11/2/92 | 330 |
| 2 | Letter to all Bethelites USA | 25/8/04 | 331 |
| 3 | Letter to Bethelites, Port Harcourt | 20/12/04 | 333 |
| 4 | Letter to all Bethelites | 18/12/04 | 334 |
| 5 | Letter to Son- the author | 14/3/04 | 340 |
Introduction
Here is a presentation of sample letters written by Joanah to assist the reader understand her theology, hermeneutic and personal life for the ministry she struggled with and a mission she accomplished in about 40 years.
LETTER 1
LETTER TO ANONYMOUS PASTOR
Ibadan
Feb. 11th 1992
Dear Pastor,
Peace of God be with you and yours. Thank you for your letter dated 25th Jan. which I received on Saturday 8th Feb.
"Yes I love you with love of the Lord (2)<![if !supportFootnotes]>[1]<![endif]>
I can see you the glory of the Lord
Yes I love with the love of the Lord"
Thanks to our heavenly father who loves us all and does not rejoice when sinner dies in his sin, but rejoices when sinners repent and have everlasting life.
But dear one in Christ (1) Beware of false prophets & prophesies. I will be very grateful if you will now read the message of St. Paul to the Ephesians Chapter 3: 1-end
Heb. 8:1-end note 8-13
Heb. 13: 1-end note 5-end and 1-4
Heb. 10:26-30, 14-19
May our Father in heaven forgive us all our sins and sanctify us who are supposed to be His Temple (Holy one). I cannot be bitter against you because you refused to help me because I had never begged for monetary etc help. How are the people of God?
Love to you all in Christ name
Yours sincerely in Jesus
JOOGURANTI
LETTER 2
LETTER TO ALL BETHELITES IN U.S.A.
From Mama Oluranti
Mount Bethel Church
University of Ibadan
Ibadan Aug 25th 2004
To the Entire Bethelites
In U.S.A.
My dear Children of God
May the full grace of our Father in heaven be with every Bethelites over there and continue to flow to you and to every new convert for ever, Amen
I thank our father in heaven for the gift of His son to us and to all mankind and for all other care and mercies.
It is written 'many are called but few are chosen'. I am always delighted to live in the loving and merciful call of God and that all Bethelites and members of our family are living in the secret place of the Almighty God and under His shadow and swim in His love. Enjoy in His mercy and care. Living in His will, commandments, Statutes and judgment, doing everything in His fear/ wisdom.
Please continue to rejoice in the Lord and in all things give praise to Him. Watch and pray always.
John 3:16, Psalm 91, Deut 26:17-18; John 15:1-21; I Thess 1:6-end; II Thess 2:1-end, Phil 4:1-end, Colos 1:1-end; Lk 22:28-35, 40
Lk 21:36, Rev 3:1-3.
MESSAGE
Return to your first love
Watch and Pray. Lk 22: 40, 28-30
Lk 21:36
John 3:36,3,5,16
II Thess 1:6-end
Rev 2:1-7, Rev 20:1-12; Rev 21:1-14, 22-27.
Please children of God, the world is coming to an end, so don't forget to be watchful and pray – Lk 22:36. In these last days we should be more careful and prayerful (I Thes
5:17
,14-27). All of these texts must be read to the Holy brethren. Do not neglect these word and message of God.
Read the word of God regularly even every church should try to read the whole Bible, gradually, read, follow and digest. John 15:7, Malachi 3:16, Rev 1:3, Rev 22:11.
Children of God, thank you very much for my house which the Lord used you with all other Bethelites so that I will not be homeless or houseless even in my old age. I remember you in my prayers regularly. I wish you God's blessings in this earth and mansions and crowns in the everlasting life. So also the $200 dollars you sent to me. May God thank you and reward you more abundantly. I also thank you very much for your love to one another and care and prayers for our Brothers, Pastor Ajao Adeyemi and Hezekiah Adeyemi
God must have led you to show a kind gesture like that, and I thank God who does not fail. May God reward you abundantly Rev 22:1-13
Remember do not take or receive the mark of the Beast- Rev 13:1-end. Rev 14:9-13, II John 1:1-end
I pray that the Lord Jesus touch and heal the sick with perfect healing, even bodily and spiritually, Amen. May the purpose for which our God established Mount Bethel be fully fulfilled during our time and furthermore may God glorify Himself and Jesus receive honour concerning Mount Bethel Church and all Bethelites and all that he will add to the fold. Acts 5:12-15. More grease to your elbow. Congratulate us for the successful wedding of our Samuel Imevbore. Keep fit children of God, II Cor 9:6-7. May our good Father bless you bountifully, Amen
Yours sincerely
Signed
LETTER 3
From Mama Oluranti
Mount Bethel Church
U.I
Ibadan, Nigeria
Dec 20 2004
My dear children of God
Greeting to you in the mighty name of our Lord Jesus Christ
I wish you to continue to live in full grace of our Father in heaven for ever. Amen
Thank you for God sending to back the Truth of God in standing firm with us in doing the will of God concerning Mount Bethel. May He continue to sustain you and us for ever
Luke 22:28-23-27
Deut 26:17-end
I Cor 6:14-end
Rev 1:3
Rev 22:1-12
Rev 3:1-12
Heb 10: 26-30
I John 5:1-end
I John 4:7-12,20
Thank you for sending your able Pastor Dr Fubara and the youth with him, who made the Lord to guide and lead them. He sent them to be very useful to us here. Thanks to God. Heb 13:1-7-24.
More grease to your elbow. May God see us through the good work he has sent us to do in God's will for Mount Bethel and the Bethelites and at the end give us His best reward, Amen. God and Jesus love. We love you too. May God bless you, Amen
Signed
Mama Oluranti
We Bethelites here are looking forward to hearing from you about your decision and about registration that we plan to do as quickly as possible. Please join us in praying early to God to grant us wisdom and the money that we will need, the faith, unity and perseverance, patience, love that we will need and for victory and success. Amen. I John 5:13-15.
Thanks you for your past care and expenses to our needs here. II Cor 9:5-6. God will reward and bless you more abundantly. You will not lack God's blessing any more. Amen.
LETTER 4
To all Bethelites World-Wide
RETURN TO BETHEL
I greet you all in the name of our Lord Jesus Christ, whose we are and whom we are called and chosen to serve. It is because of that special calling that I am now constrained to write you.
I am constrained to write you when I remember:
1. The directives that God gave me in 1966 when Mount Bethel started,
2. The direction in which I see Mount Bethel going especially in its relationship with the Christ Apostolic Church (CAC); and
3. What the Holy Spirit has been saying over many years now.
It is my desire that we do not deviate from God's purpose for us; and that if we have deviated, we should return fully to the directives and commandments of God as at the beginning.
Inception of Bethel
The Lord has used me to establish a fellowship centre for several years at U.I. That fellowship centre had existed long before one day in 1966, when Professor Imevbore, Prof's uncle, his uncle's wife (Mama Esther), Mr. Ajadi and I were praying together. In that prayer, God spoke through me that it was no longer a fellowship centre but a Church.
There was some discussion as to the name of the new Church that God said has started. The term "interdenominational as part of the name was rejected because of the fear of differences in denominational doctrines that might be in conflict with God's directives.
God gave the name MOUNT BETHEL CHURCH. I queried God on the use of the name Mount Bethel, and asked if Bethel was not polluted. God spoke about its restoration and that it was the place where Jacob had a dream. (Genesis, 28:10-22). It was in that dream that he saw heaven opened and a ladder extending from heaven to earth, with a traffic of angels going to and fro between heaven and earth. Bethel is the place where heaven and earth meet. God said that indeed, every Church ought to be Bethel, for heaven and earth should meet there. Further, God said that Bethel (and Bethelites) should be like the offspring of Abraham, and should be for the correction of the whole earth.
Therefore, every assembly to be established from this erstwhile fellowship group was to be called MOUNT BETHEL.
Certain other points stand out in those clear directives as follows:
1. God had been sending intellectuals to the fellowship centre, and therefore warned me about them. He had been sending them to CAC assemblies and they had been discouraged and driven out by the CAC's harsh doctrine on what to eat, what to wear; and about the need to take medicine and receive hospital treatment. I was not to tell them not to go to the hospital or take medicine when they were sick. This was not to deny the power of the Lord to heal without medicine, but to help those that had little or no faith for divine healing, lest they should perish.
2. The Lord said I should not molest them on what to eat or wear. I was not to molest them on the wearing of good clothes, and jewellery. Afterall, the high priest of old wore garments with embroidery and precious stones. Let the people be free to use their money as they chose.
3. The Lord said he would raise the five – fold ministerial offices of Apostles, Prophets (Prophetesses), Evangelists, Pastors and Teachers in this Church.
4. The Church would be like a University with a God-given syllabus, and would be corrected so that it could be used to correct the whole world.
5. Dot not allow "outside" workers who would change the syllabus of Bethel. Only allow Bethel-trained workers of God to work in Bethel.
6. Do not carry your money to other assemblies but use your money as God will direct you.
7. There were other directives on
a. Peace Rally:
The monthly peace rally and prayer for the nation that started at Bethel Ife and was to be held in all the other Bethel Assemblies.
b. University of Ibadan Bethel as Fountain
"Your fountain is U.I. Bethel. So whenever you are invited to U.I. Bethel, go without doubting. It is a time when all Bethelites, even those abroad, should come. If there is no money, learn to tax yourselves and do not condemn or criticize the leaders. The "Easter" and December "Get together" which have been established should always be held at Ibadan. No instruction was received to relocate these meetings.
c. Missionary Journeys
"Arrange for missionary journeys as special assignment of Bethel so the blessing of God will be that of the Church, not one person. Feed the multitude through the power of Jesus and the "loaves" you will sacrifice. Give your soul, life and love and then the glory of God will show".
d. Posting of Pastor P.A.A.A. Egabor
On 23rd January 1982, the Lord asked us to find a house for Papa P.A.A.A. Egabor in Ile-Ife. Since then, he has been living and working at Bethel Ife.
Other Churches joining Bethel.
a. Do not accept other churches that were not started by Bethelites. Help them with money and in any way you can but do not accept them. If you do, they will create rebellion in the future. If anyone tells you that they want to join their Church to Bethel, tell them what the Lord has said.
f. Bethel's Birthright
On 19 August 1984 our Papa (Pastor D. O. Babajide) gave us a message to inform us that Bethel's birthright is 'love without deceit'. This recalls the word in Genesis 25:31" And Jacob said, sell me this day thy birthright".
It follows that if love dwells in our hearts, without deceit, then God
dwells in us and nothing, not even Satan can conquer us".<![if !supportFootnotes]>[3]<![endif]>
8. There were also sets of prayers that we were to pray.
a. Prayers.
1. Thank God for His mercies, joy, blessings, graces in Bethel.
2. Ask for forgiveness of sin
3. Pray for the constant leadership of the Holy Spirit in our church.
4. Remind God to fulfil His Will and purpose over Bethel;
5. Ask the Lord to destroy all the weapons of Satan in Bethel; the Lord to nullify evil powers that enter Bethel Churches.
6. Whenever and wherever Bethel and Bethelites are being plotted against, the fire of the Lord Jesus should destroy the wicked plots.
7. All the graces of God should grow in Bethel.
8. The love and unity – the infilling of the Holy Spirit should always increase-never diminish.
9. The Lord prepare us for His service and provide all we need; the Lord to destroy all diversionary tactics of the enemy.
10. Give us power to trust you fully in all we do Lord: to trust your praises and your word in all things.
* Pray for follow-up after the power of Pentecost
* Pray: Oh God, we have obeyed you with tithes, provide money for the progress of the church.
b. Prayers
1. Lord, make me an instrument of peace.<![if !supportFootnotes]>[4]<![endif]> Mt. 5:9, Rom. 14:14
2. Where there is hatred, let me sow love Mt. 5:43-16
3. Where there is injury, let me sow pardon. Lk. 11:4
4. Where there is doubt, let me sow faith. Jos. 1:6-8, 1 Cor. 13:13.
5. Where there is despair, let me sow hope 1 Cor. 13:13
6. Where there is darkness, let me sow light. Mt. 5:14, Jn. 8:12
7. Where there is sadness, let me sow joy. 1 Thess. 5:16, Isa. 12:3
8. Grant that I may not seek to be understood as to understand my neighbour's problems.
9. That I may not seek to be loved as to love.
10. To give than to receive.
11. In pardoning than seeking revenge
12. In dying to self and flesh – to be born eternal life Mt. 8:35-38.
13. Keeping your heart from
Hatred and malice

worrying

high taste – live simple

expecting much – covetousness

greed and avarice

thinking only of self – remember others

lack of prayer

refusing to serve God. Isa. 10:12-15

anger

murmuring and grudging

jealousy and envy
….Please read:
Genesis 33: 18-20
Genesis 34:1-end
Genesis 35:1-22
Deuteronomy 8:1-9
Exodus 23:14-end
Exodus 24:1-end (esp. 10-18).
Deuteronomy 7: 1-8
Ezra 9:1-15
Ezra 10:1-12
Colossians 2:12-end
2 Corinthians 6: 14-18
2 John 1:1 – 10; Galatians 3: 1-end
Ephesians 6:6-end, then 1-5
Ephesians 5:1-33
Not with eye service, as men pleasers but as the servants of Christ doing the will of God from the heart.
2 Thessalonians 2: 1-17; 1:1 – end
John 8:1-end (Note 30 – 36, 51 – 52)
2 Samuel 23:1-7
1 Samuel 24:1-end
Remember King Saul – (1 Samuel 15:23; Hebrews 10:26 – end)
What of Eli, the priest of God whose end became bad because he changed from doing well to annoying God. (1 Samuel 2:30-36).
Remember that we should not receive the mark of the Beast. (Revelation 13:1-end). See Revelation 3:25; 20:1 – end; 21: 1-12, 22-27.
J.O. Ogunranti
Dec. 18th, 2004.
MAMA OLURANTI
Mount Bethel Church
Abadina U.I.
P.O. Box 9082
U.I. Post office
Ibadan
LETTER 5
LETTER TO SON
From Mrs. J.O. Ogunranti
P.O. Box 9082, U.I. Post Office
Or
Mount Bethel Church Abadina
University of Ibadan
Ibadan
March 19th, 2004
Prof. John 'Wole Ogunranti'
Anatomy Department
University of Jos,
Jos
My dear,
May the peace, mercy and full grace of our Father in heaven abide with you and yours for ever, Amen.
Glory be to God and thanks to you, that God granted you, your request to join all of us to worship and give joyful thanks to God for all He has done for us till the day of my 80th birthday and for ever. Millions of Halleluya to Him
God was greatly honoured that day by your presence and the presence of all of us, for He has been very good and His mercies and Jesus Christs' endureth for ever 1. Rev.7:9-17., 2. Rev. 8:3 (3) Rev. 5: 6-14
We need to continue to serve, honour and obey God fear him for ever. May He help us. Amen . Ecclesiates: 26: 13-14. Eccl.2: 26
Thanks to God for getting to your birthday again this year. I wish you marry happy returns of your birthday. Long life and prosperity as usual I laid down to thank God for birth day present to your spiritually, physically and materially for you, as you know, God gifts are in many folds, greater than our own. I send my love and that of all of us to you. God and Jesus loves you.
I pray that by D.V. next December, you will be with your own dear wife Prov. 18.22 see Proverb 31:10 – end. How is she? My sweet love to her.
Greeting to my dear Busola and children when your next call or write her. God will reward her in her goodness to you O. Amen.
I thank God for your life, your perseverance and you achievements, all come from your Father in heaven through Jesus Christ your master, Lord-Good Shepherd. May you be sustained till the end, and be able to make heaven, and receive welcome good Shepherd Amen.
Thank you very much for what you had given to your dear sister Dupe and most especially what you had been doing for me; each one money you sent to me has been God's given from you to me, comes to time and I appreciate you. May the Lord reward you abundantly (1) II Corinth 9:5-6, even 1 – end. (2) Heb. 13:7.
Your Pastor's work, I hope you do it diligently and hope you continue your academic work as well as possible. More grease to you elbow, and wish you huge success and in flying colours amen.
Please don't forget that your cheque for Mr.Yinka Singer is not through at all, and we don't know what happened. May we not cause him to be angry. May God help him and his children. It is not easy, no one helps him but God.
Please let him hear from you soon. Thanks very much
Yours very sincerely
My phone No. 080 36693878.
Your Mother
<![if !supportFootnotes]>

---
<![endif]>