Chapter 10
JOANAH'S BETHEL PROGRAMMES
<![if !vml]>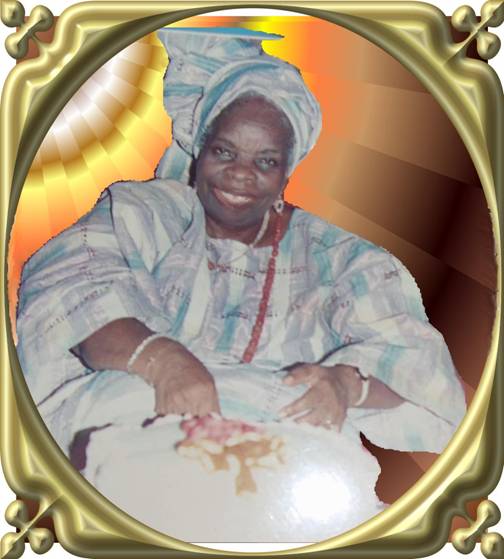 <![endif]>
| | | | |
| --- | --- | --- | --- |
| S/no | Title | Date | Page |
| 1 | The Great Revival | Unknown | 351 |
| 2 | Great Revival | 2/4/90 | 352 |
| 3 | CAC Bethel Youth Conference | | 352 |
| 4 | God's Family Get Together | 14/4/91 | 353 |
| 5 | A Call for Blessing | 12/4/92 | 353 |
| 6 | Great Revival- How to have peace and prosperity in a time like this | 4-12/4/92 | 354 |
| 7 | Great Revival and God's family Get together | 12-18/5/03 | 354 |
| 8 | Message to all Bethelites Conference | 17/12/04 | 355 |
| 9 | Great Revival and God's Family Get together 2004 | | 356 |
| 10 | Prayer for programme of the forthcoming Revival | Not known | 357 |
| 11 | Report of the first Congregational Worship Service held at CAC Mount Bethel Powerline at Oshogbo | 17/2/91 | 359 |
Introduction:
In this chapter we look at sample programmes designed by Joanah her self for various programmes of the church, to catch a glimpse of the church liturgy and normal practice off worship over the last 40 years.
THE GREAT REVIVAL

DAILY PROGRAMME

4.00 p.m. PRAYER

4.30 p.m. CHORUSES

5.00 p.m. OPENING HYMN

5.20 p.m PRAYER

5.30 p.m. INTRODUCTION, GUEST & SPEAKER

5.45 p.m. TALK

7.15 p.m. PRAYER AND TESTIMONIES

7.30 p.m. ALTER CALL & PRAYING

7.50 p.m. ANNOUNCEMENT & CLOSING HYMN

<![if !vml]><![endif]>
DAILY TOPICS
MONDAY: GOD IS THE AUTHORITY OF THE WORLD
TUESDAY: SATAN IS NOT THE AUTHORITY
WEDNESDAY: A SINNER MADE SATAN HIS/HER AUTHORITY
THURSDAY: PEOPLE UNDER SATAN'S AUTHORITY MUST REPENT IF THEY NEED PEACE
FRIDAY: I KNOW THAT MY REDEEMER LIVETH
SATURDAY: GOD IS GOOD, COME BACK FULLY TO HIM FOR THE REPLACEMENT OF THE LOST GLORY
SUNDAY: THANKSGIVING: THE WORLD SHALL PRAISE THE LORD
GREAT REVIVAL APRIL 2nd 1990
The last days shall witness the wrath of God.
'For God so loved the world that He Gave His Son …John 3:16, Heb 8:1-7, Heb 9:13-15, Heb 3:14, Heb 4:3; Isaiah 3:10
What will cause the anger of God; John 3:36, Heb 3:7-13, 21:39, Heb 4:1-2
The wrath of God
Joel 2:1-3,Acts 2, Matt 25:31-33, 41 Rev 14:9-11
What shall we do – Joel 2:12-25, Ez 21:39, Acts 16:31, Matt 11:28-30, Matt 25, Acts 2;21, Dan 12:1-3,10.
Jesus said if you keep the word, I will also keep you from the temptations which shall come upon all the world, etc.' Rev 3:10,5, Rev 2:25-28.
Prayer: Thank you for providing a solution
1. I believe
2. Please forgive my past sin
3. Give me a new heart and a new spirit
With your help Lord Jesus I shall serve God and follow you till the end
From now please remove your wrath from me and give me your favour and full grace for ever.
C.A.C. BETHEL YOUTH CONFERENCE 1990
Theme 'Jesus Christ'
Accept Him as a Son of God Daniel 4, Matt3 John 17:1-5; John 16:27-28.
HE IS THE ONLY SAVIOUR OF MANKIND
John 3:14-16; Acts 4:12; Eph 2:4-9, 2:2; Rom 5:17,19,15; Eph 1:17-22
WHY IS HE NOT ACCEPTABLE BY SOME OR MANY PEOPLE? Isaiah 53:1-7
Born in a mane; Did not go to school.
WHEN GOD IS LOVE WHY WILL HE POUR HIS WRATH UPON MANY PEOPLE?
Rev 6:16-17, Rev 11:15-19;Eph 5:3-7; Rev 9
EXPLAIN MANY DANGERS THAT WILL BEFALL THOS WHO REJECT JESUS CHRIST
Malachi 4:1-2; Rev 6:6-8; 13-17, Rev 9:1-4, 16-21
WH IS JEUS CHRISY CALLED GOD? IS HE THE FATHER? EXPLAIN
Heb 1:5-9; Is 9:6
WHAT YOU SHOULD DO TO ACCEPT HIM
Rom 8:17-28, 36, I Pet 4, Rom 9:22-24
Rev 3:21; Rev 2:12; Rev 6:9; Rev 7:9-10; John 14:1-6; John 10:10-16; John 16:33; John 15:11-16; John 14
Rev 3:21, Rev 2:12, Rev 6:9, Rev 7:9-10; John 14:1-6; John 10:10-16; John 16:33; John 15:11-16; John 14:13-14; 12:15-18,21, Rev 21,4,7,10-12, 23-27, Rev 22:3-5
WARNING TO ALL CONCERNING JESUS
Conversion, Matt 24, Rev 13:1-end
WHAT IS YOUR CHARACTER AT WORK AS A TRUE DISICPLE OF JESUS
Praise God for he wonderful gift of His Son, Forsake all other gods
Serve God and Jesus
Worship God. Rev 4:8-11; John 12:26; Rev 5:8-9; Ps 150; Rev 14:6-7
Obey Jesus and God. Come close seek to know His will and do all. Deut 28:1-2; Exodus 20:1-end
Watch and Pray
Preach to others- Acts 1:8, Mark 16:15-end; Matt 10:7-8; Luke 10:1-19
GOD'S FAMILY GET TOGETHER APRIL 14 1991
1. Praise WORSHIP
2. OPENING HYMN – The God of Abraham Praise
3. PRAYER: Thanksgiving, Forgiveness, Santification, Blessing
4. LESSON
Psalm 105:1-end
Deuteronomy 26:1-end
Mark 16:1-end
5. HYMNS. Revival Hymn Books
6. WELCOME WORD- Mrs J.O. Ogunranti
7. MESSAGE FROM GOD. GVE TO GOD AND BE BLESSED
8. ANNOUNCEMENTS
10. INTRODUCTION
11. WORK OF GOD GIVEN TO US- BUILDING PROJECT
12. PRAYERS – FOR PROGESS IN OBEYING GOD LOVE
13. FOR GROWTH, SPREAD OF GOSPEL
14. VICTORY, PEACE IN BETHEL, CAC etc
15. OFFERING
16. PASTOR/PROF IMEVBORE'S SERMON
17. APOSTLE PAAA EGABOR- HEALING & DELIVERANCE
18. PRAYER
19. THANKING GOD FOR SUCCESS
20. GRACE
REVIVAL ADVERTISEMENT 1992
A CALL FOR BLESSING!
Come and be shown the way to peace and prosperity and Be FREE
From sorrow, joblessness, enemies, fear, bad dreams, childlessness, poverty, sickness, untimely death, uncertainty, bondage of Satan, lusts and all sorts of failure, and evil.
CALL UNTO ME AND I WILL ANSWER saith the LORD
PLEASE ANSWER THIS CALL FOR BLESSING AND RECEIVE YOUR OWN
VENUE
DATE Starting from APRIL 14 1992
TIME: 5.00pm daily
Evangelical Team
CAC BETHEL
ABADINA
NEAR ABADINA COLLEGE
UNIVERSITY OF IBADAN
GREAT REVIVAL APRIL 4th -12th 1992
TOPICS – HOW TO HAVE PEACE AND PROSPERITY IN A TIME LIKE THIS!
WHAT IS PEACE? WHAT IS PROSPERITY
WHO IS THE GIVER? OR IS IT PURCHASED?
WHY DO WE NEED TO OBTAIN IT?
HOW MUCH DO WE NEED AND FOR HOW LONG?
HOW CAN WE OBTAIN IT
RECEIVE PEACE AND PROSPERITY NOW!
HOW TO RETAIN THEM AS LONG AS NECESSARY
SUNDAY APRIL 12th GOD FAMILY GET TOGETHER . HEALING, HOLY SPIRIT, LOVE, UNITY AN D THANKSGIVING, BAPTISM
PLEASE SOW BOUNTIFULLY AND BE BLESSED, II Cor 9:6; Prov 22:9
FOR GOD LOVETH A CHEERFULGIVER (II COR 9:7)
GREAT REVIVAL AND GOD'S FAMILY GET TOGETHER
MAY 12th-18th 2003
SEEK FROM GOD. Exaltation, Name, Praise, and Honour instead of seeking from Man and other gods which will not last.
Serve only the True God
Obey Him in all things – Ex 19:4-5
Deut 28:1-14
Deut 17
Psalm 10:2-14
Leviticus 19:1-end
Leviticus 20:1-end
The Prosperity of the Wicked
Psalm 73:1-END
Job 21:6-16, John 88:24; Lev 21:8
The end reward Job 21:17- end
Matt 25:34-end; Matt 2:21-24
Amos 2:2-end
Deut 26:17-end
John 3:16-5:36
John 17:12-21
Leviticus 26:1-13; 14-end
Job 22:21-30
Heb 1:1-5, 8
Heb 2:14
Heb 6:10
Heb 10:30
Rom 16:15-20
Job 23
Job 24
Job 25:12-25
Deut 26:1-19

The Righteous

Psalm 1:1-end

John 1:8-

Isaiah 3:10

Job 27:2-8

James 3:17

Duet 26:17-18

Jeremiah 29:11-

Mark 16:16-end

John

Rom 15:13-33
II John 1:1-end
I Peter 3:1-8
Rev 20:14
Rev 21:1-7
Rev 22:12-14
John 4:1-20
John 5:5,10-end, Rev 20:1-10,12
MESSAGE TO ALL BETHELITES CONFERENCE DEC 17 2004
1. What can you say about Jesus
2. Do you want to be like Peter or Judas? Heb 10:26-end
JESUS CHRIST IS THE SON OF GOD, SAVIOUR, REDEEMER, DELIVERER AND THE GOOD SHEPHERD, MATT 25;26
I JN 4:4-END, 1-8
ST JOHN 8;18-36, 52
I Jn 5;5, 1-end (12-15)
Read what Jesus Christ wants you to do
Luke 17:26-37
Luke 17:20-25
Luke 17:1-10
Luke 9:10-62
Luke 10:1-13, 16-37-42
Luke 11:1-end
Luke 22:28-32, 46-54
II Thess 1:6-end
II Thess 4:16-end
I Thess 2:1-end
I Thess 3:1-13

Heb 1:1-end

Heb 2:4-

Heb 3:1-19

Heb 2:1-13

Rev 1:3-end

Rev 2:1-end

Rev 3:1-end

Rev 4:1-end

II Jn 1:1-end

Gal 3:1-end

Rev 21:1-12

Rev 21-27

Rev 20:1-15
MOUNT BETHEL CHURCH
Great REVIVAL AND GOD'S FAMILY GET TOGETHER 2004
Theme: Christianity and Soul Winning
Monday 7 June 2004
Through Pastor Professor A. Olaniyi
Who is a Christian, Acts 6, 11:26, Act26:28; 4:16
Some are nominal Christians, but not born again
Born again, redeemed, saved John 1:12. Have plenty of grace, privilege, to be a child of God.
You seek peace
Be prayerful with total surrender to Jesus and God
Should demonstrate love all your life
Show compassion, do good to those who have not, pray for them, Lk 6:7
Should use the word of God as guide and lead them.
Must have fellowship with God
Must serve the Lord with fear and respect
A vessel for God and Jesus; must be clean and holy
PROGRAMME OF PRAYERS OF THE FORTHCOMING REVIVAL (Date not recorded)
Thanksgiving prayers
Confession of sin
Forgiveness and blessing
Holy Spirit and power
Power and authority of prayer
God please help plan the revival and bind all enemies
God please let all people in the world know and accept the True God as their only God and Jesus Christ as their only Saviour through this Revival
Spread your truth to the whole world and let people accept it
Lord God bring many, many to salvation, freedom and deliverance
God, perform miracle and signs and wonders in this revival
God use your Holy Spirit in everybody according to your promise for all flesh in the last days
Bring all to repentance and make all of them become born again
Protect us all from Satan and all his power, work and evil.
Empower us and all new converts with Holy Spirit, Power and love and make us light of the world.
Sanctify and plant your power in the revival ground and so that all who get there will meet Jesus and his miracle
Empower and perfect all the speakers and all you have chosen
Sanctify all Christians in the world and make us friends of Jesus and children of God.
Make all Bethelites one in Jesus that the world will know that God has sent Jesus.
Make all Christians awake to the truth and good service to God, Christ and Humanity and united in Jesus.
Bless Bethelites with righteousness, Power and plenty money for your work
Give Bethelites great power of prayer and working hard enough
Crush rebellion and misunderstanding and all sin; replace with Holy Spirit, Power, authority, love, faith, long suffering, goodness, humility, selflessness, fruits and gifts of the Spirit.
Crush all power of darkness and evil that has risen and will rise against Bethel and Bethelites.
Let God's will be always done in the Bethel Ministries and in Bethelites.
Prayer for Mama
Lord Jesus himself to speak through the speakers
Prayer for all travellers
Prayer for all poor, sufferers, sick and those in bondage of sin
For huge blessing of God for all Bethelites and all present
For huge success of the revival
For the spread of, and confirmation of the revival, the revival to be great and mighty
Jesus to make all to lift him Jesus up so that he may draw all to himself
No hindrance of any sort to this revival by any power or authority. The Lord should hinder all that will work to hinder or wage war against the revival and all of us.
Lord please fulfill your promise that you will continue and finish the work through Babalola which was hindered through us. And make us conquer and be successful
Lord please fill this church with many more of your people and fill it with your power of wonder and miracle and signs
Provide another big land for a new branch of this Bethel
Open all Bethelites eyes to see you and wonder and make our light to shine to the world.
Power to resist and conquer Satan.
REPORT OF THE FIRST CONGREGATIONAL WORSHIP SERVICE HELD AT C.A.C (MOUNT BETHEL) POWER LINE OF GOD OSOGBO ON FEBRUARY 17, 1991
The team from C.A.C. (Bethel) O.A.U. Ife got to Oshogbo about 9:00am. Between 9:00am and 10:30am part of the team went out to visit some families and individuals who had earlier on been informed of the starting of this Assembly and to pray with them so they could be aware of our arrival in the town, the other part of the team was busy getting the hall to be used for service prepared as well as the table and chairs to be used for the service.
The service started formally at about 10:30am and ended at about 12:25pm. Elder Solomon Adeyemi gave us words of exhortation followed by a series of prayers. Elder Tunde Oguns also gave us words of exhortation and series of prayers were also said which were then rounded up by the brothers. In attendance were: Elder Solomon Adeyemi, Elder Tunde Oguns, Brother Toyin Fatunmbi, Brother Isaac Ojo, Brother Oreoluwa Adeyemi and Brother Kayode Akinbami.
The offering taking totaled up to N48. Our prayer is that God's vision for this new assembly shall be fully realized and established in Jesus name. Amen.
<![if !supportFootnotes]>
---
<![endif]>